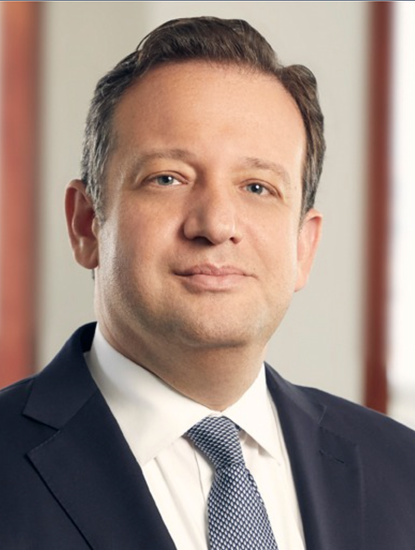 Benjamin Gruenstein is a member of Cravath's Investigations and Regulatory Enforcement practice. Mr. Gruenstein's practice focuses on the representation of U.S. and multinational companies and their senior executives in government and internal corporate investigations in such areas as the Foreign Corrupt Practices Act ("FCPA"), healthcare fraud, insider trading, criminal antitrust, accounting fraud and trade sanctions, and accompanying civil litigation. Mr. Gruenstein has handled both domestic and cross-border investigations, including in Latin America, Asia, and Europe.
Mr. Gruenstein has represented Avon Products, Inc., IBM and NCR Corporation in government investigations relating to FCPA matters. He also handles SEC investigations into alleged accounting fraud and disclosure issues; he recently represented DreamWorks Animation SKG, Inc. and Computer Sciences Corporation before the SEC in such investigations.
Mr. Gruenstein also conducts civil litigation related to government investigations. He is currently representing Novartis Pharmaceuticals in two qui tam actions in the Southern District of New York alleging violations of the False Claims Act Anti‑Kickback Statutes.
Mr. Gruenstein regularly represents senior executives of companies in criminal and regulatory investigations, including those conducted by the DOJ and the SEC. He recently represented a lawyer who had been convicted of securities fraud but had his sentence vacated on appeal in the Eleventh Circuit. See United States v. Mitchell Stein, 846 F.3d 1135 (11th Cir. 2017). He was retained to represent the client at resentencing, where the judge imposed a significantly reduced sentence of imprisonment and restitution amount.
His practice also includes advising boards of directors and their committees on issues related to corporate governance and regulatory compliance and conducting independent investigations on behalf of boards and board committees.
Prior to joining Cravath, Mr. Gruenstein served as an Assistant U.S. Attorney in the Criminal Division of the U.S. Attorney's Office for the Southern District of New York from 2002 to 2008.
Mr. Gruenstein joined Cravath in 2008 and was elected a partner in 2011. He serves as the Litigation Hiring Partner.
Mr. Gruenstein is a fellow of the American Bar Foundation. Benchmark Litigation has recognized him as a "National Star" in white collar criminal defense and investigations (2017-2022), as well as a "Local Litigation Star" in New York in antitrust, general commercial litigation and white collar criminal defense (2021, 2022). The Best Lawyers in America has recognized him for his white collar criminal defense work as well (2016-2022). He has also been recognized by The Legal 500 US for his work in white collar criminal defense (2016‑2021), general commercial disputes (2019-2020), securities litigation and related regulatory enforcement matters (2015‑2017) and for his experience in the media and entertainment industry (2017-2018). From 2013 through 2022, Mr. Gruenstein was selected by Lawdragon as one of "500 Leading Lawyers in America." Chambers USA recognized him as a leading lawyer in White‑Collar Crime & Government Investigations (2019-2021), with a client calling him "the most strategic lawyer I've ever worked with" and a peer describing him as having "impeccable judgment" and "total command of the facts of a case" and as being "outstanding with clients." Together with his colleagues, Mr. Gruenstein earned the Firm a top tier ranking for Criminal Defense: White Collar in the U.S. News–Best Lawyers "Best Law Firms" survey.
Mr. Gruenstein was born in New York, New York. He received an A.B. summa cum laude in Philosophy and Mathematics from Harvard College in 1996, where he was elected to Phi Beta Kappa, and a J.D. magna cum laude from Harvard Law School in 1999, where he was an editor of the Law Review. After graduating from law school, Mr. Gruenstein served as a law clerk to Hon. Stephen F. Williams of the U.S. Court of Appeals for the D.C. Circuit and to Justice David H. Souter of the U.S. Supreme Court.
Mr. Gruenstein is a member of the International Bar Association and a fellow of the International Academy of Financial Crime Litigators. He authored a chapter on corporate compliance programs in the 2016-2018 editions of Corporate Governance: Law & Practice.