Partnerships
Upcoming Events
As a media partner, The Academy is pleased to attend first-class events run by organizations committed to examining and learning how to approach financial crime.
Academy Events
Times Past
Past events of The Academy of Financial Crime Litigators.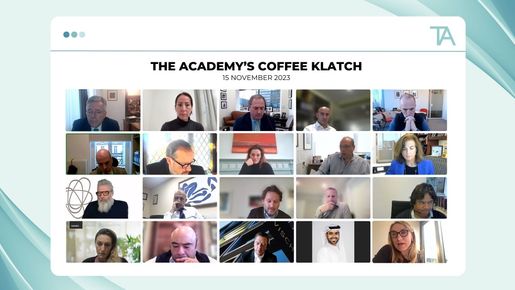 Coffee Klatch
TA fellows reconvened for another virtual Coffee Klatch, with robust discussion centered around "Presumptions in Money Laundering."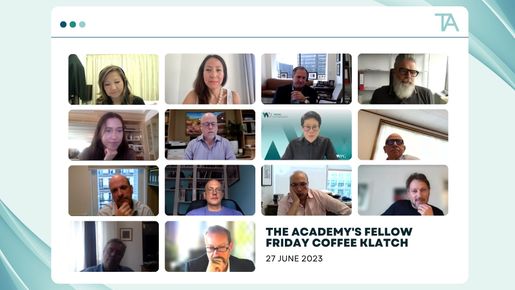 Fellow Friday Coffee Klatch
TA fellows gathered for a virtual "Coffee Klatch" discussion of current issues in financial crime.
The Academy Celebrates its 5th Year
Time to celebrate. The Academy of Financial Crime Litigators turned 5 years.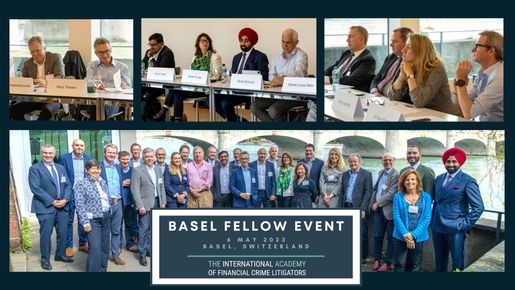 Fellows of The Academy Meet in Basel
Thank you for joining and we look forward to our next gathering.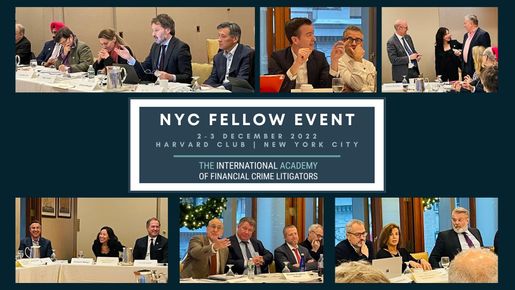 Fellows of The Academy meet in NYC
Thank you for joining and we look forward to our next gathering.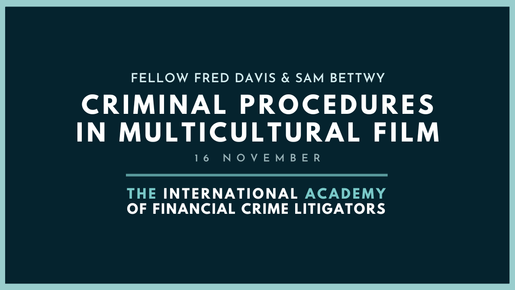 Comparing Criminal Justice in Multicultural Film
Fellow Fred Davis presents excerpts from seven classic films – three each from England and France, one from Iran – that address some common and very specific criminal procedures, and how differently they are handled. He is joined by Sam Bettwy, a federal prosecutor and Professor at Thomas Jefferson School of Law and author of the e-book "Comparing Criminal Procedures Through Films."
Watch HERE.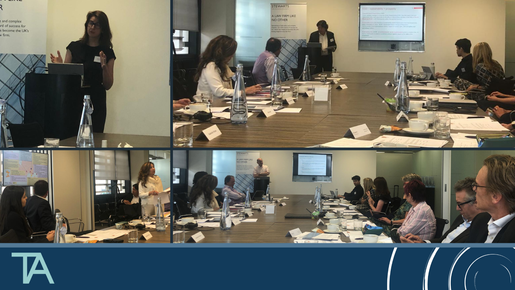 Fellows of The Academy Meet in Person in London
The Academy Celebrates its Fourth Year
Time to celebrate. The Academy of Financial Crime Litigators turned 4 years.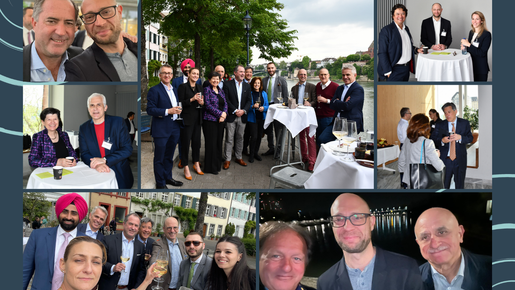 Fellows of The Academy Meet in Person in Basel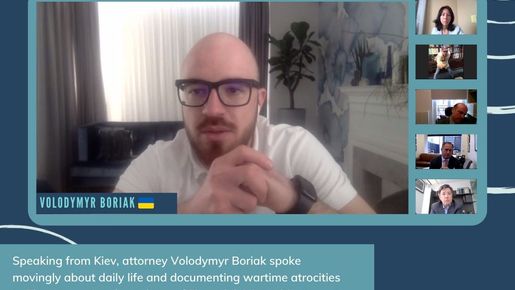 Efforts to Find Accountability for the Ukraine Conflict
As we continue to support Ukraine, Bruce Zagaris presented on the efforts to find accountability for the Ukraine conflict. Asters lawyers joined and gave us the lay of the land live from Kiev.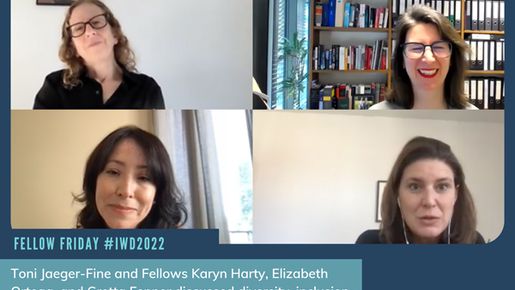 International Women's Day Webinar
During a 45-minute virtual event, Fellow Karyn Harty chaired a fireside chat with Fordham Law School Assistant Dean Toni Jaeger-Fine and The Academy contributors Elizabeth Ortega and Gretta Fenner about how to #BreakTheBias when considering diversity, equity and inclusion within organisations.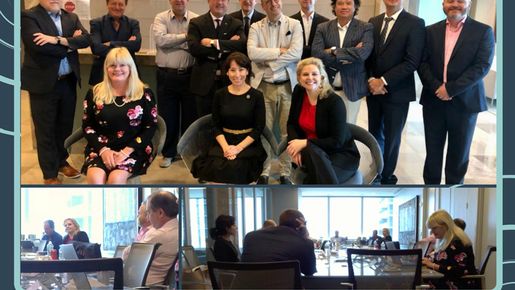 Fellows of The Academy Meet in Person in Miami
A Conversation with Jean-François Bohnert
Academy Fellows hosted a two-hour conversation with Jean-François Bohnert, the National Financial Prosecutor of France, in Washington, D.C. at the French embassy courtesy of Fred Davis.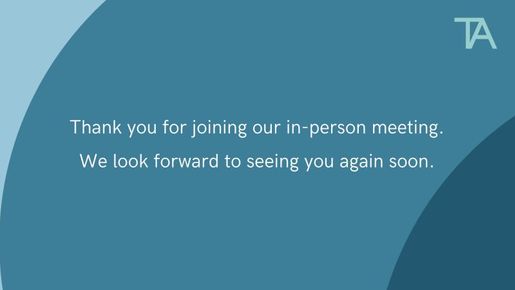 25 September – Fellows of The Academy Meet in Person in NYC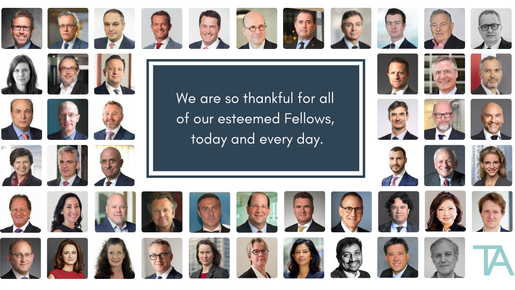 9 May - The Academy Turns 3 and Proudly Highlights a Year of Virtual Connection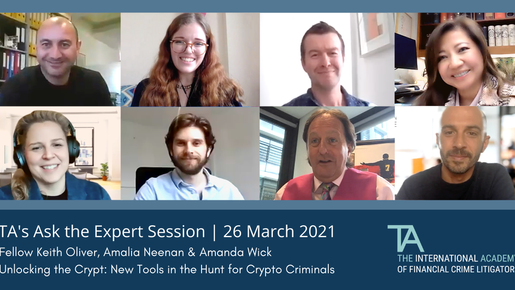 TA's Ask the Expert - New Tools in the Hunt for Crypto Criminals
In The Academy's third Ask the Expert session, Fellow Keith Oliver introduces guest speakers Amalia Neenan, Civil & Commercial Legal Researcher at Peters & Peters, and Amanda Wick, Chief of Legal Affairs at Chainalysis. During the event, Amalia and Amanda explain the block chain and discuss the future of crypto currency.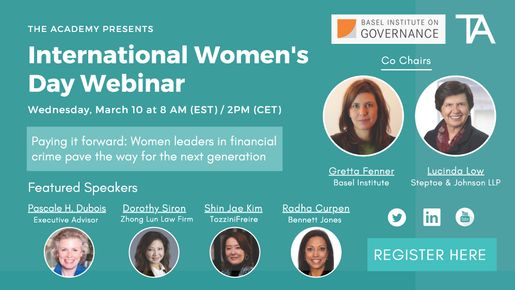 Paying it forward: Women Leaders in Financial Crime Pave the Way for the Next Generation
In this one-hour virtual session, Fellow Co-Chairs Gretta Fenner and Lucinda Low led a discussion with four distinguished panelists: Pascale H. Dubois, Dorothy Siron, Shin Jae Kim and Radha Curpen. The webinar included an interactive Q&A session at the end of the panel.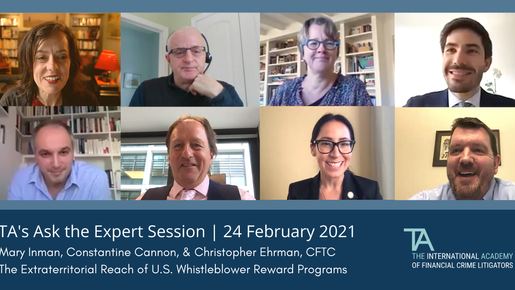 TA's Ask the Expert - The Extraterritorial Reach of U.S. Whistleblower Reward Programs
Guest speakers Mary Inman, Partner at Constantine Cannon, and Christoper Ehrman, Director of the CFTC Whistleblower Office, introduce U.S. whistleblower reward programs and explain how they can be used by non-U.S. citizens too.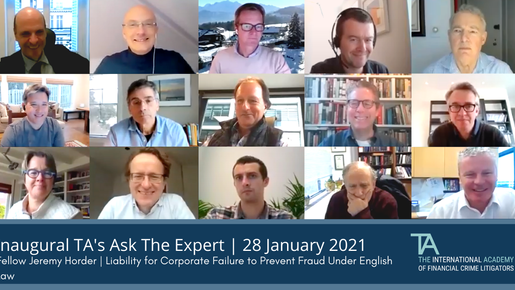 TA's Inaugural Ask the Expert – Liability for Corporate Failure to Prevent Fraud Under English Law
During The Academy's first Ask the Expert event, Fellow and Professor Jeremy Horder presented on corporate liability for failure to prevent fraud under English law.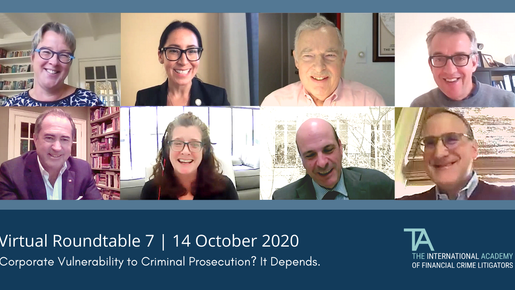 Roundtable 7 - Corporate Vulnerability to Criminal Prosecution? It Depends.
Speakers Harry Travers and Fred Davis discuss corporate vulnerability to criminal prosecution as Lisa van der Wal moderates.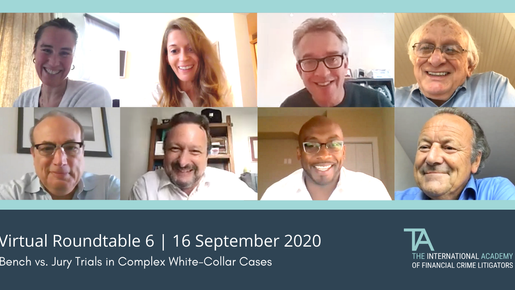 Roundtable 6 - Bench vs. Jury Trials in Complex White-Collar Cases
In our sixth roundtable, Gary Naftalis moderates a discussion on bench trials versus jury trials in complex white-collar cases with Speakers Adam Hoffinger and Mark Pieth.
Roundtable 5 — Trends In Corporate Liability
Lucinda Low moderates a discussion on recent trends in corporate liability with speakers Jonathan Sack and Wolfgang Spoerr.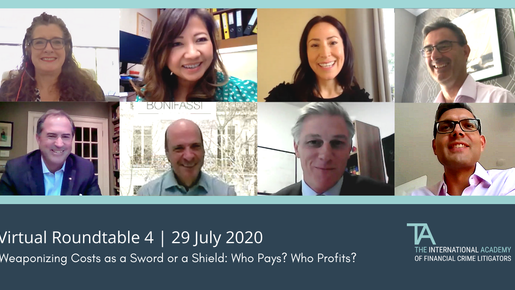 Roundtable 4 – Weaponizing Costs as a Sword or Shield: Who Pays? Who Profits?
In this roundtable, moderator Dorothy Siron guides a discussion on the costs of international litigation with speakers Sue Thackeray and Lincoln Caylor.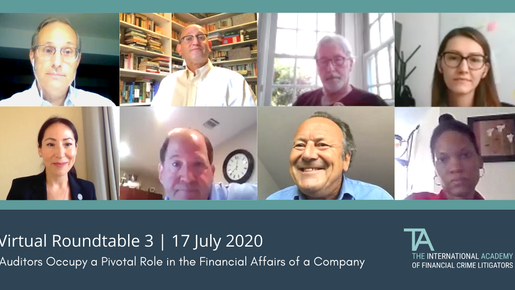 Roundtable 3 – Auditors Occupy a Pivotal Role in the Financial Affairs of a Company
Speakers Mark Pieth and Andrew Stafford QC discuss the role of auditors in the financial affairs of a company as Glenn Pomerantz moderates.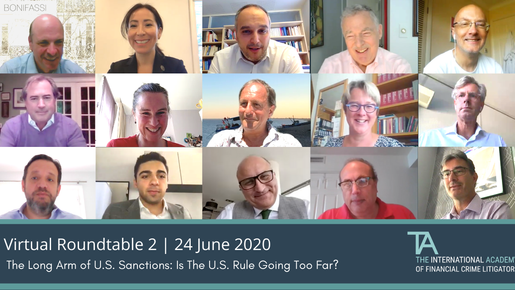 Roundtable 2 – The Long Arm of U.S. Sanctions: Is the U.S. Rule Going Too Far?
Stéphane Bonifassi moderates a discussion on the reach of the U.S. sanctions with speakers Professor Régis Bismuth and Ben Gruenstein.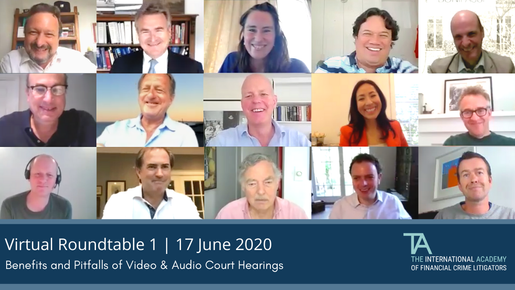 Inaugural Roundtable for The TA Virtual Series
Cathalijne van der Plas and Tim Prudhoe kicked off the Academy's virtual roundtable series by presenting on the issue of remote advocacy.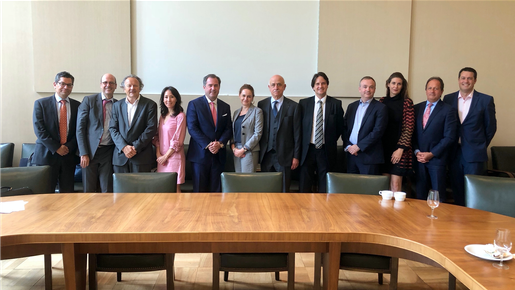 9 May – The Academy Turns 2 and Celebrates by Honouring its Visionary Founding Fellows.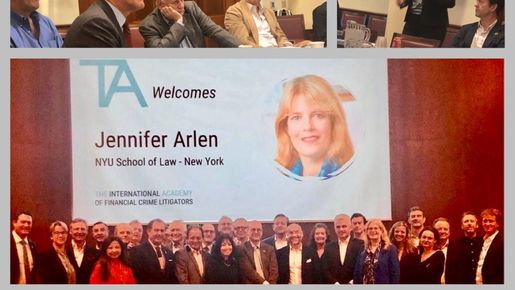 Fall 2019 Meeting in New York City, New York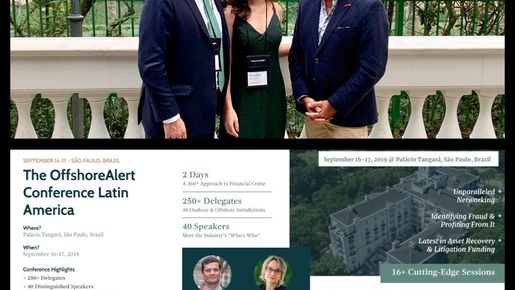 OABrazil 2019
Academy members Antenor Madruga and Keith Oliver accompanied by Natalia Goncalves of Bonifassi Avocats.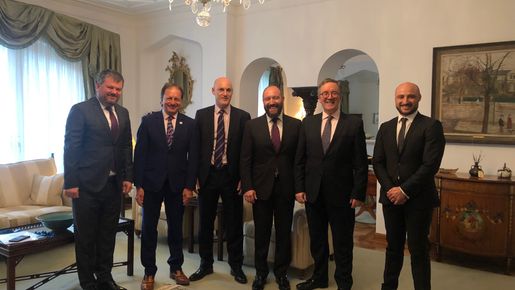 Keith Oliver and Ambassador Andrew Noble Discuss Julian Assange Case
The UK Ambassador to Bucharest, His Excellency Andrew Noble, graciously hosted a dinner for leading members of the local legal community at his residence on Tuesday, 14 May, 2019. They discussed the state of international law and, particularly, extradition issues generated by the case of Julian Assange of Wikileaks. Keith Oliver, founding member of The International Academy of Financial Crime Litigators and head of international for Peters & Peters Solicitors LLP, is pictured.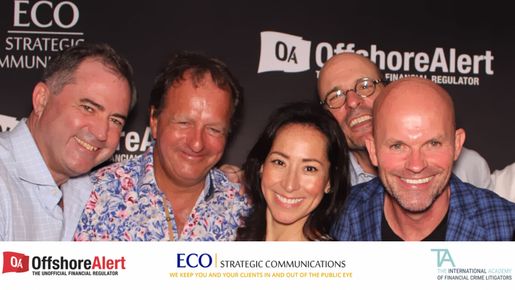 Media partnership agreement
The Academy struck its first media partnership agreement with the OffshoreAlert Conference North America. Founding members raised the economic crime-fighting flag at #OACMiami 2019, while OffshoreAlert founder David Marchant spoke about competition to tame the rising tide of financial crime as he welcomed The Academy to the event.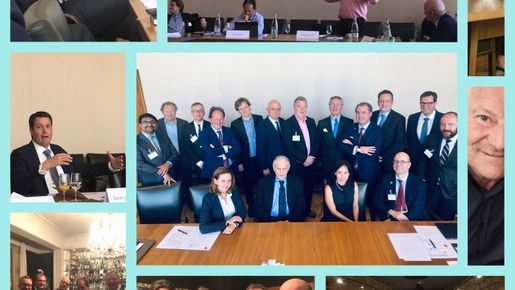 Spring 2019 Meeting Hosted by University of Basel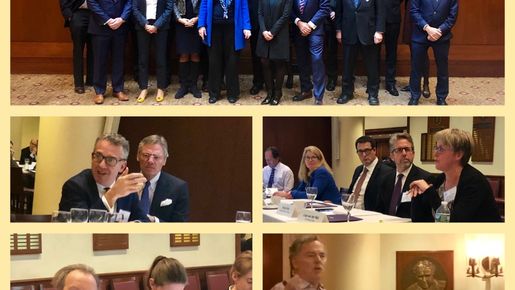 Fall 2018 Meeting Hosted by New York University School of Law